Tanya-Tanya
by Olga Mukhina
4 males, 3 females. Various interiors and exteriors. Two acts.
A country house belonging to Ivan Okhlobystin is always filled with "guests, women" and, as Chekhov might have said, "five poods of love." The lives of six twenty- to forty-somethings intertwine romantically and emotionally in a way that keeps everyone's head spinning with champagne lightness. And yet, as flirtations, love affairs and breakups shake almost everyone in the group, an uncertain future for all looms increasingly large on the horizon. Perhaps one character admits just that when she gaily suggests they take the precaution of putting rubber plugs in the electrical outlets before an approaching storm arrives. A play of exquisite delicacy, wit, beauty and unblinking honesty.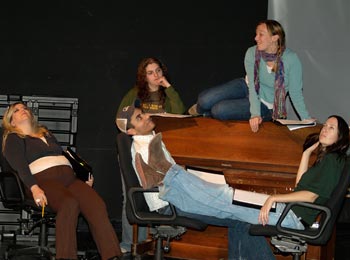 Tanya Tanya by Olga Mukhina.
Adapted by Kate Moira Ryan.
Towson University
December 2009.