Frozen in Time
by Vyacheslav Durnenkov
11 males, 4 females (1 male and 1 female silent). 4 interiors, 4 exteriors. Two acts.
A paraphrasing of "Romeo and Juliet" in the sublime context of "middle Russia," that is, in a small provincial city the likes of which there are thousands. The life here is meager and boring. Everyone has known everyone else for ages. Among them are two families, one which accepted the rules of the game of post-Soviet life, the other which continues to live in the past. But a boy and a girl from these vastly different families fell in love. Two businessmen appear and plan to turn the entire city into an "outdoor museum." They invite the city's inhabitants to dress in 19th-century garb and become exhibits in this museum. This proposal exacerbates a smoldering conflict between the two families and a war between clans erupts.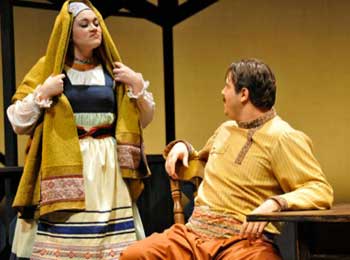 Lauren Leone Baker as Olya and Alex Kafarakis as Yura in Frozen in Time at Towson University. April 2010. Photo: Jay Herzog.
Hannah Lewis as Lina, Christopher H. Zargarbashi as Klim, and James Alfred Rose Johnson as Pate. Photo: Jay Herzog.