Project Team
The project was initiated and developed through a collaboration between Philip Arnoult, director of the Center for International Theatre Development, and members of the Department of Theatre Arts at Towson university, including Jay Herzog, Stephen Nunns, Robyn Quick, Juanita Rockwell, David M. White, Peter Wray and Daniel Ettinger. In addition to the involvement of Arnoult and Towson University theatre faculty, the project has engaged prominent artists and scholars in Russia and the United States. Advisory boards in the United States and Russia helped select material for inclusion in the project. Russian playwrights whose work is being translated and produced, most of whom will visit the U.S. during the project, include: Olga Mukhina, Maksym Kurochkin, Yury Klavdiev, Vyacheslav Durnenkov and the Presnyakov Brothers. Noted translator, scholar and Moscow Times Arts Critic John Freedman has served as a major collaborator and advisor on the project. He will visit the U.S. three times during the 2009–2010 season. American playwright Kate Moira Ryan will create an adaption of Olga Mukhina's Tanya-Tanya for the project. Ryan is a recipient of the Joe Calloway Award from New Dramatists and her plays have been produced at the Atlantic Theatre Company, the Ekaterinburg Youth Theatre in Russia, and the Lake George Theatre Project. Russian director Yury Urnov will be at Towson University during the 2009–2010 school year as a Fulbright Scholar-in-Residence. He will direct three plays at the university and one play in Baltimore during that time. Choreographers Albert Albert and Alexandra Konnikova will serve as the university's Rosenberg scholars and will assist in the direction of one play.
New Russian Drama Project Advisory Board:
US:
Mark Bly, Alley Theatre, Dallas
Linda Chapman, New York Theatre Workshop
Kate Loewald, The Play Company, NY
Christian Parker, Atlantic Theatre, NY
Russia:
John Freedman, author, translator, Moscow
Yelena Kovalskaya, critic, Moscow
Oleg Loevsky, Ekaterinburg Young Spectator Theater
Pavel Rudnev, The Meyerhold Center, Moscow
Yuri Urnov, director, Moscow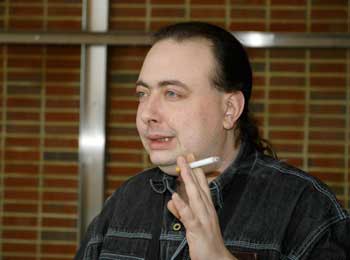 Guest artist and Fulbright Scholar-in-Residence
Yury Urnov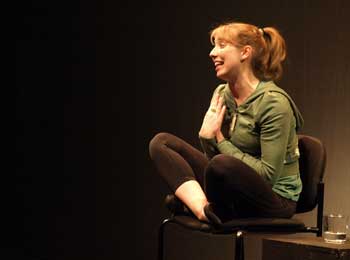 Sarah Lloyd in I Won by Yaroslava Pulinovich. Towson University's New Russian Drama Season.
February 2010.
Photo: Robyn Quick.